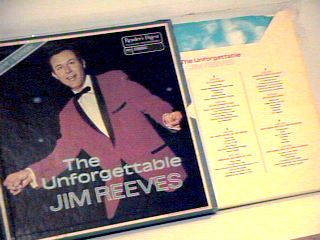 Reader's Digest, the world's largest-circulation magazine, has for years made money by releasing Jim Reeves music on its own label, in cooperation with RCA/BMG. For instance, Jim's Christmas songs regularly turn up in multi-artist sets issued each holiday season by the magazine's record division. A few years ago, the Digest released a beautiful collection called "The Unforgettable Jim Reeves." It was an 8-record set and came packaged in a great box, as shown above. Later they issued this on cassette and CD. In fact, the magazine built its famous sweepstakes around Jim, with a special supplement that was attached to the publication. In a keepsake booklet, the magazine offered its readers a chance to win $12,500,000 when they ordered Jim's record!
This is what they said about Jim:
"Award winner...International Super Star...Country Music Hall of Fame Member...
"Because he never lost the ability to make you feel he was singing just for you. Three hours of friendly, heartwarming songs by Gentleman Jim. An exclusive Reader's Digest tribute to the man who could make you feel in your heart what he felt in his."
(Courtesy of Olga Jordan)
(press the BACK button on your browser to return to preceding page)
HOME
©All contents copyright 1998 by Julie Campbell. All worldwide rights reserved. Photos and text may be downloaded from this site for personal use ONLY. All photographs used with exclusive permission of their owners, with signed affadavits on file (at the law offices of Wallentine, O'Toole in Omaha, Nebraska) attesting to this fact. Any re-use of photos/text is strictly prohibited and will constitute violation of copyright, with violators prosecuted to the fullest extent of the law.