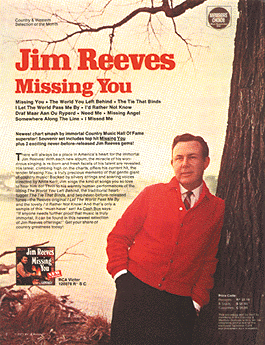 Here is an full-page magazine ad RCA ran to promote the release of the "Missing You" album in 1973. The ad reads:
"Newest chart smash by immortal Country Music Hall of Fame superstar! Souvenir set includes top hit 'Missing You' plus two exciting never-before-released Jim Reeves gems!

"There will always be a place in America's heart for the immortal Jim Reeves! With each new album, the miracle of his wondrous singing is re-born and fresh facets of his talent are revealed. His latest, climbing high on the charts, offers his current hit, the tender 'Missing You,' a truly precious memento of that gentle giant of country music! Backed by silvery strings and soaring voices directed by Anita Kerr, Jim sings the kind of songs you so love to hear him do! Thrill to his warmly human performances of the lilting 'The World You Left Behind,' the traditional heart-tugger 'The Tie That Binds,' and two never-before-released tunes -- the Reeves original 'I Let the World Pass Me By' and the lovely 'I'd Rather Not Know'! And that's only a sample of this 'must-have' set! As Cash Box says: 'If anyone needs further proof that music is truly immortal, it can be found in this newest selection of Jim Reeves offerings!' Get your share of country greatness today!"
---
"Missing You," of course, was a beautiful song that was a major hit for Jim. He recorded it at his last session on July 2, 1964, and did so primarily because his secretary, Joyce Jackson, liked it so well she urged him to do it. There's also an interesting story behind "I'd Rather Not Know." Mary overdubbed strings and a new instrumental arrangement and made the song something special. But if you'd like to hear the way it originally sounded -- when Jim and the Blue Boys recorded a demo version in his basement -- just click our musical notes icon below. You'll be able to listen to the unpolished version in streaming RealAudio.
Click this button

to hear the song!

---
(To get your FREE copy of RealAudio software,
Click Here.
)
For technical questions, please see the Service & Support FAQ and Help
pages.
Email us HERE.
(press the BACK button on your browser to return to preceding page)
HOME
©All contents copyright 1998 by Julie Campbell. All worldwide rights reserved. Photos and text may be downloaded from this site for personal use ONLY. All photographs used with exclusive permission of their owners, with signed affadavits on file (at the law offices of Wallentine, O'Toole in Omaha, Nebraska) attesting to this fact. Any re-use of photos/text is strictly prohibited and will constitute violation of copyright, with violators prosecuted to the fullest extent of the law.