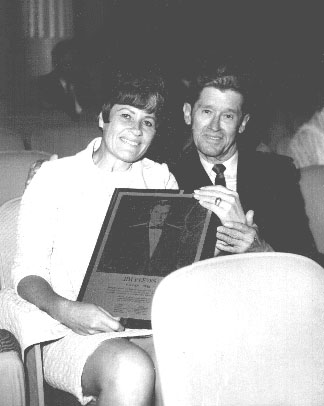 This rare photo of Mary with Roy Acuff was taken in October 1964 after Jim swept the Country Music Association Awards ceremony. Jim received the Best Male Vocalist, Best Single and Best Album awards that year, and a gracious but shy Mary uttered only a soft "thank you" each time she was called to the podium. The event was nationally televised . She talked about her feelings later in a letter which will be reproduced in the upcoming book on Jim.
(from Larry Jordan's forthcoming biography on Jim Reeves)
(Press the BACK button on your browser to return to preceding page)
HOME
©All contents copyright 1999 by Julie Campbell. All worldwide rights reserved. Photos and text may be downloaded from this site for personal use ONLY. All photographs used with exclusive permission of their owners, with signed affadavits on file (at the law offices of Wallentine, O'Toole in Omaha, Nebraska) attesting to this fact. Any re-use of photos/text is strictly prohibited and will constitute violation of copyright, with violators prosecuted to the fullest extent of the law.