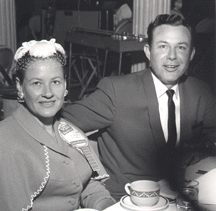 From Music City News, March 1966
A Lifetime With Jim
By Mary Reeves
(Editor's Note: Michael Streissguth, author of the pseudo-biography, "From A Moth To A Flame," quoted very brief portions of an extended interview Mary Reeves gave to Music City News magazine in 1966. But he ignored a sidebar that Mary wrote herself. To have mentioned it would, of course, have undermined his inflammatory and unsupportable thesis: that Jim Reeves was an abusive husband who had Mary "cowering" in corners. If you think that Streissguth did not set out to write a negative book on Jim to hype sales, consider the following article. Wouldn't any fair-minded person think it at least deserved a mention -- since it is a rare, on-the-record testimonial from Mary in her own words, as to her relationship to her husband?)
When a husband and wife share love in the true form, there is a complete and full understanding as well as a freedom that cannot be enjoyed with any other relationship. This is what Jim and I had. Because of this great love for each other, we were completely happy in our marriage. We lived MORE in 17 years than most people live in a full lifetime.
Jim was two separate identities to me: Jim Reeves, the star, and Jim, my husband.
Jim Reeves, the star, you know about.
Jim Reeves, my husband, was a most loving, genteel, considerate, happy, affectionate man and mate. He was, as a husband, perfection personified. We had a good life together. We shared everything: fun, sorrow, disappointment, joy, exhilaration and excitement in planning for the future. Everything was shared.
He always discussed with me all business transactions, all changes, all advancements where his career was concerned, all contracts were read and discussed together, the songs he recorded were lived with, talked about, earned and sung at home for weeks before they were recorded. In other words, everything that he did was discussed and decided upon by the two of us. He valued my opinion above anyone else's. He didn't always take my advice or use my opinions, but he always asked for them.
This gave me a sense of helping him as well as a sense of security with him. We was a good provider, not only from the material standpoint, but he provided me with love, security, fellowship, romance, fascination, amusement and anything else you can name that was good.
He was a highly moral man with a respect for honesty, decency and the high level standards. He treated me both as his wife and as a business woman with respect and honesty.
When it was necessary for us to be apart, he always wrote to me or telephoned me almost every day. His heart was big and full of love and trust. We were always sweethearts and went on a honeymoon every year. Of course, there were times when we, like everybody else, had our differences of opinion, and a little "spat" or two, but this was very seldom; and certainly nothing ever of major consequence. He liked for me to go with him on his travels and, of course, I liked this also. We "saw the world" together.
Jim was a firm believer in God, and had an unalterable faith that God would forgive his sins and lead him in the right directions. This was our faith together and, of course, is still mine. God is Almighty and we are but grains of sand on a beach. I do not question the handiwork of God and that, in fact, is what everything amounts to anyway. So with this faith in God and the strong love for Jim, I was able to give him up peacefully, but with the hard realization that I had lost a precious friend and husband, and that the world had lost an irreplaceable singer and man. The heritage which Jim Reeves left me is indeed priceless, and whatever I am today is the result of a lifetime with Jim.
--Reprinted with permission from Music City News
(press the BACK button on your browser to return to preceding page)
HOME
©All contents copyright 1998 by Julie Campbell. All worldwide rights reserved. Photos and text may be downloaded from this site for personal use ONLY. All photographs used with exclusive permission of their owners, with signed affadavits on file (at the law offices of Wallentine, O'Toole in Omaha, Nebraska) attesting to this fact. Any re-use of photos/text is strictly prohibited and will constitute violation of copyright, with violators prosecuted to the fullest extent of the law.