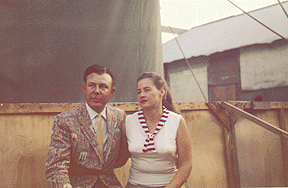 In his so-called biography, "From a Moth to a Flame," published last summer, Michael Streissguth contends that Jim was violently-tempered toward Mary and literally had her "cowering" in corners. He bases this inflammatory accusation on one uncorroborated story from songwriter Alex Zanetis. What Streissguth either didn't know -- or chose not to tell his readers -- is that Jim had a falling out with Zanetis and vowed never to even listen to any of his submissions in the future, let alone record any more of his songs. So obviously Zanetis had an axe to grind. As the photo above from a 1958 fair date shows, Jim and Mary were sweethearts -- and remained so until the day he died. Scores of similar photos show them being affectionate with each other. Mary, for her part, once wrote an article saying that, as a husband, Jim was "perfection personified."
(Press the BACK button on your browser to return to the preceding Gallery Page)
©All contents copyright 1998 by Julie Campbell. All worldwide rights reserved. Photos and text may be downloaded from this site for personal use ONLY. All photographs used with exclusive permission of their owners, with signed affadavits on file (at the law offices of Wallentine, O'Toole in Omaha, Nebraska) attesting to this fact. Any re-use of photos/text is strictly prohibited and will constitute violation of copyright, with violators prosecuted to the fullest extent of the law.