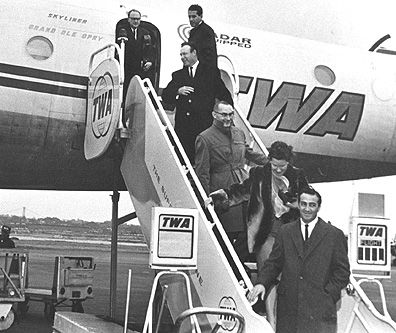 One of Jim's career highlights was headlining a breakthrough concert at New York's famed Carnegie Hall. Also on the show were other Grand Ole Opry stars, shown arriving here with Jim. From the bottom of the ramp upward are Faron Young, Minnie Pearl, Grandpa Jones, Jim, and Bill Monroe (in doorway). Not pictured but also on the show was Patsy Cline. The group flew to New York on a TWA plane renamed "Grand Ole Opry Skyliner" for the occasion (see markings upper left).
(From Larry Jordan's forthcoming biography on Jim Reeves)
(press the BACK button on your browser to return to preceding page)
HOME
©All contents copyright 1998 by Julie Campbell. All worldwide rights reserved. Photos and text may be downloaded from this site for personal use ONLY. All photographs used with exclusive permission of their owners, with signed affadavits on file (at the law offices of Wallentine, O'Toole in Omaha, Nebraska) attesting to this fact. Any re-use of photos/text is strictly prohibited and will constitute violation of copyright, with violators prosecuted to the fullest extent of the law.