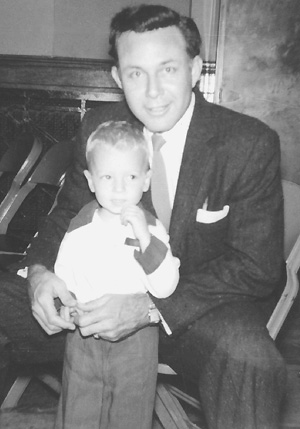 Jim poses with young fan Eldon Gath, son of Mr. and Mrs. Elmer Gath, who were all close, longtime friends of Jim and Mary's. Jim desperately wanted children and even wanted to adopt one of the Gath kids. Jim also invited young Eldon to sit on his lap when he sang "Bimbo" on live network TV on the "Ozark Jubilee" show. A shy little boy declined, however, to his mother's everlasting regret!
(Photo courtesy of Doris Gath)
(Press the BACK button on your browser to return to the preceding Gallery Page)
©All contents copyright 1999 by Julie Campbell. All worldwide rights reserved. Photos and text may be downloaded from this site for personal use ONLY. All photographs used with exclusive permission of their owners, with signed affadavits on file (at the law offices of Wallentine, O'Toole in Omaha, Nebraska) attesting to this fact. Any re-use of photos/text is strictly prohibited and will constitute violation of copyright, with violators prosecuted to the fullest extent of the law.