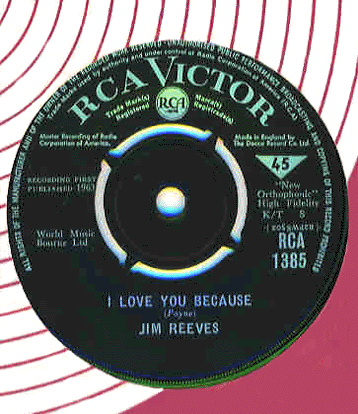 Jim's big smash hit "I Love You Because," which became popular all over Europe. He performed it everywhere he went, including live during a show in Oslo, Norway in April 1964. A videotape of that splendid concert has been enjoyed in bootleg form by fans in recent years. Plus Norwegian television has rebroadcast it as recently as August 1999. The song, written by blind songwriter Leon Payne, not only showed off Jim's vocal prowess, but his willingness to embrace an unconventional artist as well. Amazingly, it features a harp -- unheard of on a country record, but just another example of how Jim Reeves was so far ahead of his time.
(Press the BACK button on your browser to return to preceding page)
HOME
©All contents copyright 1999 by Julie Campbell. All worldwide rights reserved. Photos and text may be downloaded from this site for personal use ONLY. All photographs used with exclusive permission of their owners, with signed affadavits on file (at the law offices of Wallentine, O'Toole in Omaha, Nebraska) attesting to this fact. Any re-use of photos/text is strictly prohibited and will constitute violation of copyright, with violators prosecuted to the fullest extent of the law.