(Please be patient while page downloads)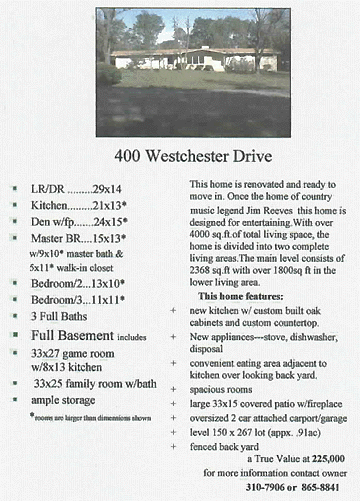 Here is an ad for Jim and Mary Reeves' home, which is currently for sale. The price is certainly reasonable considering the size of the home and features. Perhaps some Reeves fan will buy it.
Jim and Mary had the home built in 1958 by contractor Charles Rhoten, after the success of "Four Walls", on what was then a dead-end street in the rural Nashville suburb of Madison, Tenn. It is on a large lot almost a block deep and surrounded by locust trees (some of which blew down in tornadic winds a few years ago). The champagne-colored brick was derived from the limestone native to Tennessee. After their collie dog Cheyene got hit by a car, the Reeves' fenced the large back yard so he couldn't get out again. The covered patio features a fireplace outside that Jim used for barbecues when they had lawn parties -- which they did a lot.
Jim loved his home, but complained he scarcely had time to enjoy it. He was on the road so much of the time.
Jim used to chop his own wood for the fireplace, and tinkered with his antique Buick parked out back. The offices of Jim Reeves Enterprises were moved into the lower level of the home, with a separate driveway and entrance (on the right). The driveway on the left circled around to the garage/carport area .
This home was part of the sale of the Reeves estate and is owned by United Shows of America, Inc.
(Press the BACK button on your browser to return to preceding page)
HOME
©All contents copyright 2000 by Julie Campbell. All worldwide rights reserved. Photos and text may be downloaded from this site for personal use ONLY. All photographs used with exclusive permission of their owners, with signed affadavits on file (at the law offices of Wallentine, O'Toole in Omaha, Nebraska) attesting to this fact. Any re-use of photos/text is strictly prohibited and will constitute violation of copyright, with violators prosecuted to the fullest extent of the law.