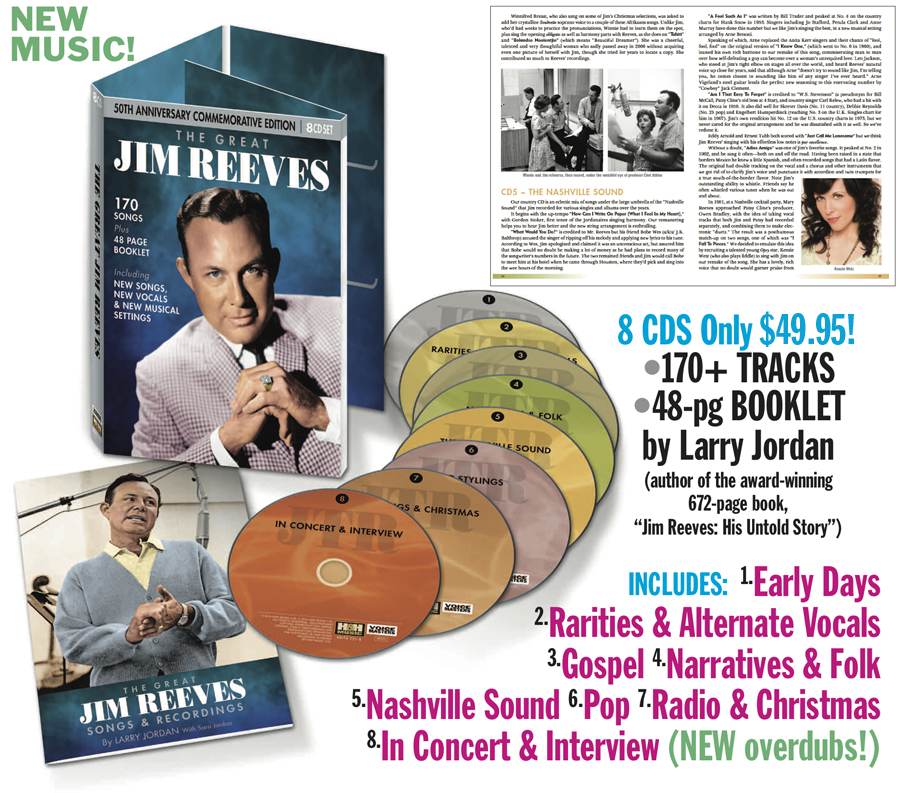 SCROLL DOWN TO HEAR AUDIO SAMPLES

MAKE NO MISTAKE! This is not another compilation of "greatest hits."
In The Great Jim Reeves, VoiceMasters — which has premiered so many NEW and previously unreleased songs by Jim — and producer Larry Jordan, have taken many of Mr. Reeves' best-loved songs as well as some obscure recordings that will be new to you, stripped them down to get rid of some of the original instrumentation and remastered Jim's voice for greater clarity than ever before. His vocals were then combined with tasteful new accompaniment, consistent with his own preferences. By using some of the world's top musicians, background singers and orchestrators, these old tracks sparkle with a rich new luster, making them sound like Mr. Reeves just recorded them today! Jim's voice truly IS timeless. You will treasure this special, limited-edition collection for years to come.

The Great Jim Reeves 8-CD set comes in a handsome, unique, silver-trimmed and high-gloss durable case which opens like a book. The track listings are displayed on two panels which then fold open to reveal all 8 CDs in convenient storage pockets. There is also a separate 48-page booklet inside called "Songs & Recordings" (running about 18,000 words!) in which Larry Jordan (author of the award-winning, 672-page book, "Jim Reeves: His Untold Story"), provi
des f
ascinat
ing an
d detailed notes on each song. He talks about who wrote it, how it came to be written, why Jim recorded it, behind-the-scenes anecdotes about the recording sessions, etc. Larry is also providing exclusively for this set new information NOT INCLUDED IN HIS OWN BOOK. Interspersed in the new booklet are very rare color and b&w photos, some of which have never been reproduced anywhere before (including a color pic Larry took of Mary Reeves the first time he met her when he was still a teen and visited her at her invitation in Nashville!)

Not since that big 16-CD boxed set was released 20 years ago has anything this exciting been made available to the fans, and we fully expect this wonderful, BARGAIN PRICED 8-CD collection of NEW MUSIC to be regarded by fans with similar enthusiasm. Even if you have purchased everything that VoiceMasters and/or H&H Music have released on Jim in the past, there are still 42 NEW OVERDUBS contained in The Great Jim Reeves that you have never heard before and are released here for the FIRST TIME. Plus the bonus booklet — exclusive to this set!

To see a list of tracks, CLICK HERE.
To read some great, independent REVIEWS click HERE and HERE.

The sound quality on The Great Jim Reeves is nothing short of INCREDIBLE. Hear Jim's voice better than ever before! EVERY track has been remastered and remixed — not just the songs that have new music added to them. So even the selections you think you know will sound "new and improved." This really is a labor of love involving talented people, including current members of the Grand Ole Opry band and other top players in Nashville, plus musicians in Florida, the Carolinas, Atlanta and even Europe! In some cases, the original arrangements were augmented with bigger string sections, better percussion, woodwinds, brass and/or keyboards to create a fuller, more complete sound. In other instances, the original backings were scrapped and whole new musical treatments were given Jim's wonderful songs. Compare these tracks to the originals and you'll hear a much improved quality...for a more contemporary listening experience — sometimes with subtle touches, and on other numbers there will be a BIG difference!

The CDs are organized to cover a range of Jim's music, from the better material he recorded in his earliest days, through his evolution as a singer, to the smooth "Nashville Sound," his inspiring gospel numbers, Jim's move in a pop direction, his compelling narratives (his spoken words found here are improved and simply mesmerizing), and even folk classics. We have also remastered his famous concert with the Nashville Symphony Orchestra and the outstanding live performance he gave in Oslo, Norway in 1964. This set even includes a 40-minute wide-ranging interview with Jim that offers rare insights into his personality. Need we say more? You can't find a better collection of NEW MUSIC by Jim Reeves anywhere else. To hear audio samples, click the speaker icons below, then scroll down the page to order today! THIS IS CURRENTLY A WORLD EXCLUSIVE OFFERING and not available in stores or anywhere else!
---
ONLY $49.95
plus s/h sent First Class Mail with UPC Code & Tracking Receipt

for all 8 CDs and 48-page booklet!
| | |
| --- | --- |
| U.S. Customers | Foreign Customers |
| | |

Please Note: By placing your order, you agree to be bound by our terms and conditions as follows: Although all
packages are sent with a bar code for tracking, we cannot be held liable for postal loss, theft or breakage in transit.
If you wish to add insurance to your order, please email us HERE to request a quote.
FOREIGN CUSTOMERS ALSO NOTE: WE DO *NOT* AND *CANNOT* COLLECT YOUR COUNTRY'S
IMPORT FEES OR CUSTOMS DUTIES, IF ANY. YOU ARE RESPONSIBLE FOR KNOWING YOUR OWN
COUNTRY'S IMPORT/POSTAGE POLICIES AND PAYING FOR THEM YOURSELF.
Official release date is May 15, 2014. Depending on where in the world you live, please allow 3-4 weeks for delivery.
All audio samples courtesy H&H Music Ltd. This is an EU product, manufactured and released in the EU in accordance with all applicable EU laws.