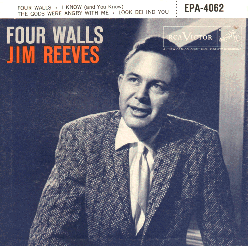 Here is one of the rare EPs released on Jim. An "EP" was an "extended play" 45 rpm record that had four songs on it instead of just two. (It's a shame the record companies stopped doing this!) In this case, Jim's big hit of "Four Walls" was showcased with "I Know and You Know," "The Gods Were Angry With Me," and "Look Behind You." The photo was taken at RCA's old studio (as opposed to Studio B), which used to be located at the Methodist Television Radio & Film Commission at 1525 McGavock Street in Nashville. (Incidentally, the building is now used by Jim Owens Productions for the "Crook and Chase" TV show). The session that produced these songs was held on February 7, 1957 and featured Jim as well as Chet Atkins playing guitar, Bob Moore on bass, Farris Coursey on drums, Floyd Cramer on piano and the Jordanaires providing backup vocals.
(from the collection of Larry Jordan)
(Press the BACK button on your browser to return to preceding page)
HOME
©All contents copyright 1998 and 1999 by Julie Campbell. All worldwide rights reserved. Photos and text may be downloaded from this site for personal use ONLY. All photographs used with exclusive permission of their owners, with signed affadavits on file (at the law offices of Wallentine, O'Toole in Omaha, Nebraska) attesting to this fact. Any re-use of photos/text is strictly prohibited and will constitute violation of copyright, with violators prosecuted to the fullest extent of the law.