SPECIAL CD OFFERS

Here are the most popular VoiceMasters Jim Reeves CDs released over the years. They are hard to find and we offer the
BEST PRICE ANYWHERE
! Each contains previously unreleased new material on Jim (new songs, new vocals, new overdubs, etc.)
In addition, there is a NEW Patsy Cline CD just released (on the H&H label), the music for which was overdubbed by the same VoiceMasters team who has brought you the wonderful Reeves packages.
---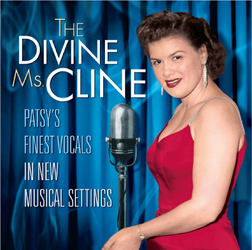 Many fans of Jim Reeves are also fans of Patsy's. In real life, the two performers often worked together, not only on the Friday Night Frolics and the
Grand Ole Opry
, but also military recruiting radio shows and out on the road. Patsy even guested for a week on Jim's ABN network radio show (the tapes for which are still lost). Jim and Patsy highly respected each other as individuals and as artists, and could sometimes be found at Tootsie's Orchid Lounge in Nashville between
Opry
shows, sharing a pitcher of beer with their friends. Patsy even flew on one of Jim's chartered planes with him and the Blue Boys to play some dates in the South. This new CD,
"THE DIVINE MS. CLINE,"
is an import from the UK. It was produced by Larry Jordan (who did all the VM music), and is simply spectacular. It features 20 new overdubs of Patsy studio tracks, plus 6 unreleased live, "in concert" recordings. Cline's original recordings were stripped down, her voice remastered for better clarity, and then tasteful new instrumentation added to give these songs a fresh sound. Fans are raving about this new CD!
To hear audio samples and order the CD,
CLICK HERE
.
---
"I'VE FORGOTTEN YOU"
is one of the best and most popular CDs VoiceMasters ever created. Like all the VM CDs, it presents previously unreleased music by Gentleman Jim. One highlight is an overdub of the last song Jim ever recorded (in his basement home studio) shortly before his passing, "I'm A Hit Again." When this song was released as a single in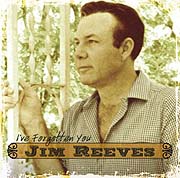 Europe, it zoomed to #1 on radio playlists, where it stayed for an astonishing 7 weeks! One of the best tracks is an unreleased vocal on "Am I Losing You," which is arguably the best recording in existence of this song. Jim's performance was extraordinarily good, and the pretty new strings and background singers making it oh so smooth. This CD also contains Leo Jackson's favorite overdub: "Gypsy Feet.' Leo told Larry Jordan, "You outdid yourself on that one." The clarity of Jim's rich voice is astonishing, and the bright new arrangement — featuring instruments that gypsies might actually play — makes this song a real toe-tapper. This set also includes songs that Mary Reeves never released, like "You're the Sweetest Thing," presented here as a new overdub. The title track is also a real catchy tune that Reeves had recorded in a small studio as a demo out in Hollywood near the corner of Sunset and Vine.
To hear audio samples and order the CD,
CLICK HERE
.
---
"SHEPHERD OF LOVE" is an often overlooked gem in the VoiceMasters library. It features a spectacular new overdub of "Distant Drums," a posthumous hit for Jim that made it to #1 on the British charts, where it stayed for five weeks in 1966 at the height of the Beatles' popularity. This new overdub takes the song to a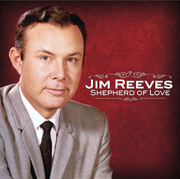 whole new level, with a big orchestral sound. With this CD also comes the first-ever release of a demo version of "Is It Really Over" that Jim cut with the Blue Boys (and which is overdubbed). Likewise you get to hear an unreleased vocal on Reeves' signature song, "He'll Have To Go," which also includes a beautiful male chorus backing. When RCA released "Lonesome Waltz" on an LP in 1967, it sounded foggy. But thanks to the tools available in the digital age, the original now has been cleaned up for incredibly crisp clarity. Plus a beautiful new instrumental arrangement showcases this fabulous country number. The title track is a song Mary Reeves never released — and small wonder. It was based on Jim's real-life relationship with a young cowgirl rodeo star (described in fascinating detail in Larry Jordan's book, "Jim Reeves: His Untold Story." To hear audio samples and order the CD, CLICK HERE.

---
"I CALL HER HEARTACHE" is definitely for the purists out there, who like to hear raw versions of Jim's songs without all the final polish of his official releases. This CD is a treasure trove of unissued demos, including SEVEN NEW SONGS! The title track is one which Mary Reeves and RCA never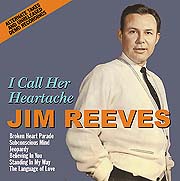 released — and we don't know why, since it's a great country song! Of all the VM releases, this one has been the most consistent seller, with fans eager to acquire it because it gives you a behind-the-scenes glimpse into Reeves experimenting with song ideas. There's even some studio chatter. You'll hear Jim start to sing one of his demos (at the Starday studio' and then stop, commenting that "I can't sing this damn song." In the background you'll hear his friend Dottie West — who was there that day to lend support and sing back-up — encourage him. Meanwhile, the engineer, ex-Blue Boy Tommy Hill, warns Reeves that the clock is ticking, and he only has a few minutes to get a good "take." So Jim buckles down, the musicians start to play again, and this time Jim nails the tune in one take. Fascinating! In all, this CD gives you 24 songs, a true treat for the die-hard collector. To hear audio samples and order the CD, CLICK HERE.

---
"HEARTBREAKIN' BABY" is special in more ways than one. Besides the wonderful overdubs of new vocals and new songs, there is an incredible, 42-minute intimate interview with Jim Reeves by Bill Mack, that has never been commercially released! Jim covers a wide range of topics, reflecting on his career but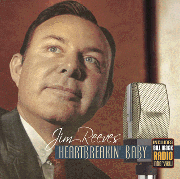 also talking about what he likes to eat for breakfast, who his favorite male and female movie stars, what he thinks of TV, etc. He tells an anecdote about Hank Williams (whom he knew well in his early days), and gives listeners a rare glimpse into his personality. You will be struck by how articulate, poised and intelligent Mr. Reeves really was, and you will be lulled by that mellifluous speaking voice! Even if there weren't some great songs on this CD, this interview alone would be worth acquiring! As for the music, the title track comes from the same demo session Reeves did out in Hollywood at the behest of his publicist ladyfriend, Bea Terry, whose vital role in his career and life was revealed for the first time by Larry Jordan in his book, "Jim Reeves: His Untold Story." The CD begins with Jim singing "Need Me" — a song which Larry explains in his book was written by Reeves for Bea, after she was the victim of an assault. (Their poignant love story is detailed with Bea's personal recollections in the book). Another highlight is a sparkling new rendition of Jim singing "White Christmas." To hear audio samples and order the CD, CLICK HERE.
---

We hope you find something you will enjoy by the great Jim Reeves. And don't forget about Larry Jordan's award-winning, 672-page book, "Jim Reeves: His Untold Story," plus the 2-CD set, "The New Recordings," that are also available at: www.jimreevesbook.com