(Please be patient while the page downloads)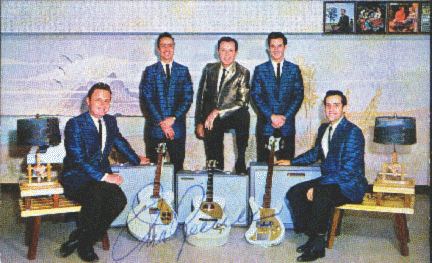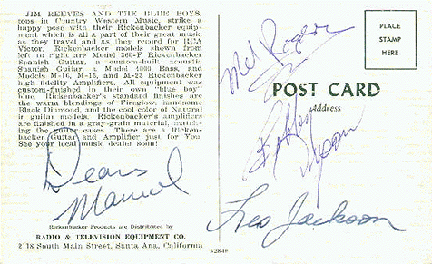 This postcard is a real collector's item owned by James Scott and submitted exclusively to this website for the enjoyment of Jim Reeves fans. Although the photo at top has been seen before, this is a rare color version. It was taken in Jim's basement. Note his signature on the card. On the reverse side are the autographs of all the Blue Boys -- another rarity. The postcard was apparently put out by the Rickenbacker guitar company, which had outfitted Jim and his band for free, in exchange for the promotional value.
(from the collection of James Scott)
(Press the BACK button on your browser to return to preceding page)
HOME
©All contents copyright 1998 and 1999 by Julie Campbell. All worldwide rights reserved. Photos and text may be downloaded from this site for personal use ONLY. All photographs used with exclusive permission of their owners, with signed affadavits on file (at the law offices of Wallentine, O'Toole in Omaha, Nebraska) attesting to this fact. Any re-use of photos/text is strictly prohibited and will constitute violation of copyright, with violators prosecuted to the fullest extent of the law.