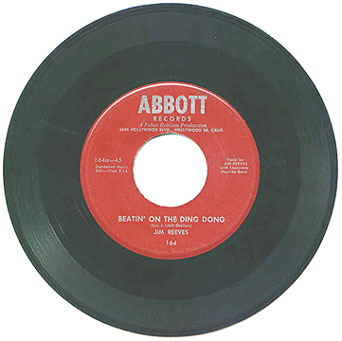 As longtime lead gutiarist and right-hand man Leo Jackson confirms, a good way to get yourself fired from Jim's staff was to mention this song -- "Beatin' On the Ding Dong." Although a lot of us think it's just another cute novelty number from the early Reeves repertoire, Jim apparently did not share our appreciation of it! This Abbott release -- done at the insistence of label owner Fabor Robison -- is likewise very rare.
(from the collection of Larry Jordan)
(Press the BACK button on your browser to return to preceding page)
HOME
©All contents copyright 1999 by Julie Campbell. All worldwide rights reserved. Photos and text may be downloaded from this site for personal use ONLY. All photographs used with exclusive permission of their owners, with signed affadavits on file (at the law offices of Wallentine, O'Toole in Omaha, Nebraska) attesting to this fact. Any re-use of photos/text is strictly prohibited and will constitute violation of copyright, with violators prosecuted to the fullest extent of the law.