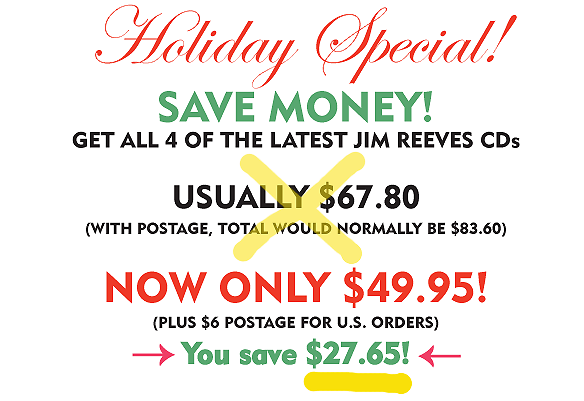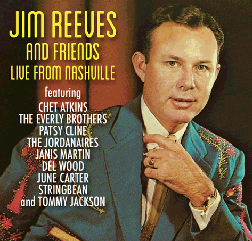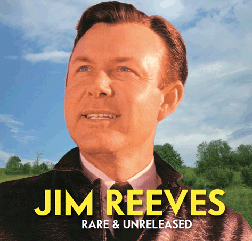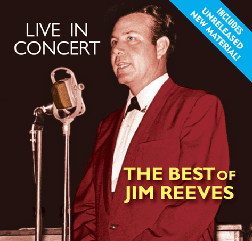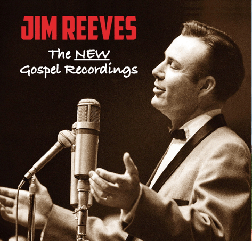 CLICK ON CD COVERS TO HEAR AUDIO SAMPLES!
Normally, each of these CDs would cost $16.95 apiece (or $67.80 total) plus $3.95 postage each ($15.80 for 4), so you'd be spending $83.60 for U.S. orders. HOWEVER, for a limited time only, and

WHILE SUPPLIES LAST

, we are offering a SPECIAL DISCOUNT to enable you to SAVE MONEY during the holiday season, and still enjoy some of the best music this side of heaven! Get all 4 CDs for just $49.95 and $6 postage U.S.

These VERY unique CDs feature previously unreleased new material on Gentleman Jim Reeves! No other label anywhere in the world has managed to track down such obscure, long-lost and RARE recordings as these. And nobody has given them such a loving treatment, with all-new musical settings that will make it seem like Jim just recorded them yesterday.
Now, for a very limited time only, you can buy 4 CDs for only $49.95 (plus postage). Never before have these wonderful CDs been offered at such a low price, anywhere at anytime!
You get 127 tracks, including unreleased new Jim Reeves vocals and songs

, alternate takes, and totally NEW songs you've never heard Jim sing before! Many of these songs feature sparkling, all-new instrumental and vocal settings by top-notch orchestrators, singers and world-class country musicians.
Expertly restored, including 24-bit digital remastering, y
ou won't believe your ears! The quality is SUPERB!
These CDs have been lavished with praise in published reviews worldwide, and by radio programmers ranging from XM/Sirius satellite radio to WSM and even the BBC!
Each CD is beautifully packaged and contains rare photos plus extensive, detailed, and fascinating liner notes by Larry Jordan, author of the award-winning 672-page book, "Jim Reeves: His Untold Story."
The new gospel CD is really special! IT INCLUDES 12 UNRELEASED TRACKS! Some of today's best Nashville and Southern Gospel musicians and singers have created beautiful new musical settings to showcase Jim's old and new inspirational favorites! The sound quality achieved on Jim's voice is beyond anything you have heard before -- the richness and clarity are AWESOME! Includes MANY UNRELEASED tracks.
HURRY WHILE SUPPLIES LAST. VERY LIMITED QUANTITIES.


AND WHEN YOU ORDER, YOUR NAME WILL AUTOMATICALLY BE ENTERED IN A DRAWING FOR A FREE, PERSONALLY AUTOGRAPHED COPY OF
LARRY JORDAN'S 672-PAGE, AWARD-WINNING BOOK.

Larry will even call you personally to chat with
you on the phone, no matter where you are in
the world!

Drawing to be held Dec. 20th and winner
announced on The Jim Reeves Way website!



---
YOU GET ALL THIS:



JIM REEVES & FRIENDS LIVE FROM NASHVILLE
Jim HOSTS HIS FRIENDS ON THE OPRY (THESE ARE NEW, and NOT the same old retreads!)
34 TRACKS, INCLUDING 23 JIM REEVES SONGS,
(only 1 of his performances here has ever been released!)
Jim even "calls" a square dance!


INCLUDES DIALOG BETWEEN SONGS & ALTERNATE VERSIONS:

Overnight (Jim); Claudette (The Everly Brothers); I'll Fly Away (Jim); Please Don't Talk About Me When I'm Gone (Chet Atkins); Eight More Miles To Louisville (Stringbean); I Love You More (Jim); Arkansas Traveler (Jim and Shorty Lavender); Waitin' For A Train (Jim); Love Me To Pieces (Janis Martin); Peace In the Valley (Jim); Pennsylvania Polka (Chet Atkins); Twelfth Street Rag (Del Wood); Four Walls (Jim); In A Mansion Stands My Love/Billy Bayou/Yonder Comes A Sucker (Jim); When My Blue Moon Turns To Gold Again (The Blue Boys); I Missed Me (Jim); Honeycomb (The Jordanaires); Soldier's Joy (Shorty Lavender and the Stoney Mountain Cloggers); Billy Bayou (Jim); Snowflake Breakdown (Tommy Jackson); There He Goes (Patsy Cline); I'm Gettin' Better (Jim); Crazy Dreams (Patsy); I Know One (Jim); Highway To Nowhere (Jim); Worried Man Blues (Jim Reeves and June Carter); Suppertime (Jim); An Evening Prayer (Jim); Partners (Jim); Losing Your Love (Jim); How Can I Write On Paper? (Jim); Roly Poly (Jim); I'm Gonna Change Everything (Jim Reeves and Bobby Dyson); Danny Boy (Jim).



JIM REEVES RARE & UNRELEASED




31 tracks, 21 NEW overdubs, & JIM SINGS BACKUP TO BLUE BOY BOBBY DYSON ON 1 SONG!




NEW OVERDUBS OF DEMOS & ALTERNATE TAKES:

One Little Rose, Pride Goes Before A Fall, Read This Letter, Nobody's Fool, Theme of Love, I Let the World Pass Me By, I'm Beginning To Forget You, I'm Gonna Change Everything, Most Of the Time, Beyond the Shadow Of A Doubt, Oklahoma Hills, Home, Dear Hearts and Gentle People, Billy Bayou, Send Me Back My Love, Never Take No For An Answer, I'd Rather Not Know, How Many, Kentucky Waltz, You Kept Me Awake Last Night, Honey Won't You Please Come Home, Two Shadows On Your Window, He'll Have To Go, Is It Really Over?, Beyond the Clouds, You're Slipping Away From Me. PLUS BONUS UNRELEASED DEMOS: Little Ole Dime, Before I Died, Old Tige, Seven Days, Thanks For Calling (Jim sings back-up...the first time he's been known to do that)



JIM REEVES: THE NEW GOSPEL RECORDINGS




34 TRACKS, NEW MUSICAL SETTINGS, STUDIO "FALSE STARTS" AND COUNTDOWNS!


BEHIND THE SCENES OF A JIM REEVES RECORDING SESSION WITH JIM EVEN GIVING INSTRUCTIONS! (NOT ALL THE DIALOG IS ANNOTATED ON THIS TRACK LISTING):

Unsung Song; A Beautiful Life; In The Garden; Oh Gentle Shepherd; Teach Me How To Pray (False Start); Teach Me How To Pray; Have Thine Own Way, Lord; This World Is Not My Home; It Is No Secret; Where We'll Never Grow Old; Nobody Walks Alone; I'd Rather Have Jesus; I'll Fly Away; My Cathedral; How Long Has It Been?; Their Life They've Made; The Flowers, The Sunset, The Trees; Trouble In The Amen Corner; Scarlet Ribbons; Precious Memories; Suppertime (False Start); Suppertime; God's Plan; An Evening Prayer; The Night Watch (False Start); The Night Watch; Men With Broken Hearts; Padre Of Old San Antone; Whispering Hope; A Christmas Star; O Little Town Of Bethlehem; Mary's Boy Child; He Will; Beyond The Clouds.



THE BEST OF JIM REEVES LIVE IN CONCERT




28 TRACKS, 6 DIFFERENT SETTINGS SPANNING 5 YEARS AND 3 SETS OF BLUE BOYS!




UNRELEASED LIVE RECORDINGS RANGING FROM A NOISY HOTEL BAR TO A CONCERT WITH A SYMPHONY, A SHOW ON A MOUNTAINSIDE IN THE RAIN (with different tracks than the RCA release), TO A NIGHTCLUB, A SHOW IN SWEDEN, AND ONE FROM THE PACIFIC NORTHWEST.

Billy Bayou; Anna Marie; Introduces band; Danny Boy; Bimbo; Four Walls; Everywhere You Go; Mexican Joe (instrumental); Danny Boy; I Was Just Walking Out the Door; Streets of Laredo; He'll Have To Go; Four Walls/I Missed Me/Tennessee Waltz/I Really Don't Want To Know/He'll Have To Go; Stand At Your Window; The Blizzard; Your Old Love Letters; An Evening Prayer; I Get The Blues When It Rains; Am I Losing You; I'm Gettin' Better; What Would You Do?; I Know One; I Love You Because; Adios Amigo; I Can't Stop Loving You; Mexican Joe; BONUS: FOR THE FIRST TIME ANYWHERE, THE LUMP LUMP BOYS COMEDY ROUTINE WITH JIM; INTERVIEW WITH JIM.


---
ORDER TODAY!
NOT AVAILABLE ELSEWHERE ONLINE
OR IN CATALOGS OR STORES


| | |
| --- | --- |
| U.S. Customers | Foreign Customers |
This offer processed by our friends at the Good Music Store
To see other great CD offers, CLICK HERE





Copyright 2015 by Julie Campbell-Jordan. All rights reserved.